5 Couples Toys For A Perfect Valentines Day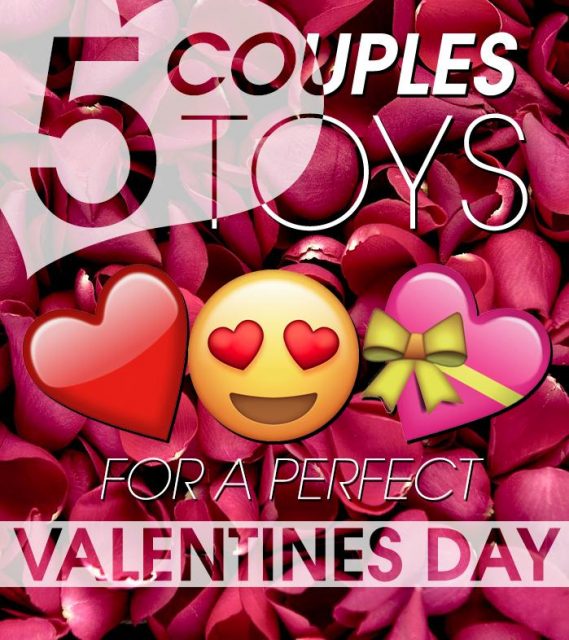 Valentines Day is right around the corner and I'm sure those evening plans at Nandos or going to the movies or even a chilled one watching Stranger Things on Netflix are set in stone BUT WAIT - what's on the menu for afters? (and we're not talking about that defrosted Gateau). No need to worry, we have you sorted with five perfect couples toys sure to spice up Valentines night.
Let's just jump into the deep end and start with this amazing introduction to sensory and restraint play! The Fifty Shades books and films have opened the minds of many formerly shy (dare we say prudish) folk who would've immediately dismissed even light bondage play. Boundaries have changed and hopefully, yours has as well as you give each other a whip, smack, and slap with the mini flogger. Gentlemen, get her going first with the 10-speed bullet or weighted Kegel Balls. The Love Ring, Nipple Clamps, Pleasure Plug, Satin Blindfold, Silky Restraints, and Feather Tickler will give you more than just Valentines night to explore one another's pleasure limits.
BEST FEATURE: 10 individual toys to dip your toes into the sensual world of bondage play!
For those couples looking for something a bit more straight-forward then the Hera Cock Ring is for you! Cock Rings aren't just for the guys, ladies. This little beauty will only vibrate when in contact with skin adding a new and tantalising element to intercourse. Don't let it's size fool you either, boys, as the Hera stretches into any size and will fit neatly around Johnny increasing and strengthening arousal without being intrusive.
BEST FEATURE: Small and packs a punch allowing the boys to focus on his job while the girls are teased and caressed externally.
Do not fear the strap-on! Whether you're brand spanking new to its delights or a strap-on pro, this small strapless vibrator offers internal pleasure for both the receiver and wearer. Although perfect for lesbian couples, anyone and their partner can explore its unique benefits. This effective bad boy is kept in place by the sumptuous bulb-shape, which also provides orgasmic sensations for the wearer. As this pushes up towards the g-spot, ridges at the base of the shaft stimulate the clitoris during penetration. This adds so many dimensions to the already intense sexual experience of using a strap-on.
BEST FEATURE: No straps for this strapless strap-on as both partners enjoy its internal vibrating.
This sleek designed pink vibrator offers intense pleasure for both women and men. The Versa boasts 10 powerful speed functions and a flat design that will stay in place during intercourse, massaging her clitoris and g-spot while at the same time giving him a thrilling vibrating sensation. You can't really ask for more than that! Being rechargeable, waterproof, and made of medical grade silicone are added bonuses.
BEST FEATURE: It's flexible design and powerful vibrating function which give pleasure to both her and him!
Don't let the unusual design of the Pro 4 fool you. This Satisfyer toy lives up to his name providing intense pleasure for both partners! Despite resembling a futuristic hairdryer, the Pro 4's narrower shaft is worn in the vagina and offers 10 powerful vibration settings which stimulate both his penis and her vagina during sex. While he gets his rocks off even more with the feeling of added tightness around his penis, she enjoys the sensual pressure on her G-spot. If all that wasn't enough, part of the U-shaped vibrator remains outside, indulging her clitoris with tantalising pressure waves which recreate the sensation of oral stimulation. If this doesn't get you both off, you're doing something wrong as the Satisfyer is the ultimate couple's toy.
BEST FEATURE: Stimulating the woman's clitoris touch-free through pressure waves, providing deeper stimulation which leads to multiple orgasms!
February 7, 2018
← Previous Post
Next Post →