FOREPLAY: 7 Amazing Products To Set The Mood
Foreplay /ˈfɔːpleɪ/ noun: "sexual activity that precedes intercourse."
We all know what it is but many don't partake in the full sensual fun of this glorious action. Let the opening act be the star of the show. For those that don't and even for those who do; why not add another element into all of that sucking, licking, and groping? There are a variety of toys you can include in on the fun. We break down 7 types of foreplay toys (and non-toys) that you can use in the bedroom for added pleasure and anticipation!
Bullet vibrators are great for solo play but the finger bullet is perfect for both of you! Ladies, if his fingers just aren't doing it, have your man pop one of these bad boys on and enjoy as he sends you to the gates of heavenly pleasure. Packing a powerful 11,000rpm, it won't be just the ladies who get pleasure out of it. Gentlemen, let her have a go on your head (the one below the belt) or better yet, enjoy giving her all of the pleasure!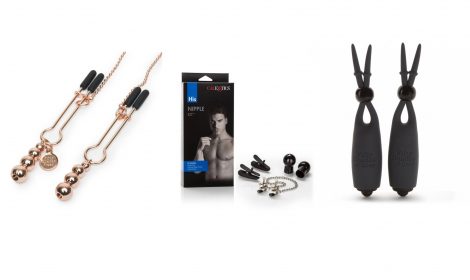 The pleasures of the nipple aren't exclusively for the ladies. Up to 60% of men who get aroused have erect nipples! This is why nipple clamps and suckers are a perfect foreplay product to try out on both of you. Although you can never go wrong with a skillful tongue, clamps and suckers send sensations to another level. You can go hardcore and weight the clamps down or go hi-tech with wireless motors for high-intensity arousal. No matter your poison, neither sex should miss out on the joys of nipple play.
Bondage play is no longer only for the middle-aged swinger's three doors down. Thanks to the popularity of the Fifty Shades of Grey franchise, bandage has left the dungeon and anyone can and should explore its hidden joys. It's always best to dip your toes in first and you can do so with a playful fringe whip, or for those ticklish amongst us, a tickler can tease and thrill every inch of the body. If you prefer taking on the Master role, use a pair of silky sensual handcuffs and take full control. For those ready for the intermediate level, pop in a breathable ball gag and give your partner a night they won't soon forget.
Painting is no longer for art class or old age pensioners down the leisure centre on a Tuesday afternoon. It's for foreplay too and when you make it edible it becomes a sticky mess you don't mind spending the night cleaning up. Use that naughty imagination of yours and paint a work of sexual art on his or her body with vanilla and chocolate body paint and then enjoy the fruits of your labour by licking every last stroke off! This is a form of foreplay sure to bring pleasure and laughs to any night-in.
Who doesn't love a sensual deep tissue massage from the one you love (or from that Tinder/Grindr date)? That's right, no one! So add more to make that rubdown a truly erotic one with intoxicating chocolate, strawberry wine, or almond sweetness massage oils. Better yet, light up a Rose or Erotic Fruit massage candle and use the lukewarm oil it produces to give your partner's skin a soft and silky feel as you massage every nook and cranny on their body.
Although on the surface a vibrating egg may seem like a toy just for her; gentlemen, you too can get pleasure out of using the wireless remote to control it's 40 diverse and exciting vibrations! Have her slip it in while you watch a film on the sofa and slowly but surely increase the intensity of the egg. Her (hopefully) pleasurable reactions will bring you all the joy you need.
Who doesn't love a good old fashion board game at home? Well, this isn't that dusty 1995 Monopoly set you play with the fam, it's sexual, naughty, crude, passionate, and fun! Erotic games are a perfect way to set the mood of the night and to encourage bonding and confidence between you and your partner. Roll the dice and see what body part your tongue has to go to and include an erotic game into the joys of foreplay!
February 16, 2018
← Previous Post
Next Post →