The Worlds Most Expensive Sex Toys
If you were rich, what would you spend your money on? Taking care of family, giving to charity? Perhaps, buy a new car or house, travel to an exotic location? Well, it turns out; the rich are prepared to splash out tens of thousands of pounds on a single sex toy! Have a look at some of the most expensive sex toys in the world and only dream what it would be like to be a millionaire throwing away 10k on a vibrator.
Lelo's Inez Gold
£10,000
Swedish sex toy makers, Lelo are well known for their stylish, simplistic, and luxurious toys but the Inez takes things to another level – and you can hit that level for a bargain bucket price of £10,000! The Inez Gold is defined by decadence and elegance and is crafted in either stainless steel or lavish 24-karat gold plate. "It's perfect for those who understand that you can't put a price on pleasure." That's what Lelo claim and they may very well be right but check out our much more affordable and just as pleasurable alternative.
Coco de Mer Nell Pleasure Seed Vibrator
£12,000
The Coco de Mer Nell is a real beauty and a steal at only £12,000! Designed as a clitoral vibrator for twin-pronged intense stimulation, Nell can also be used on your nipples, neck, or any other erogenous zone but you can get that with any affordable quality vibrator. The real scale tipper is that this coco seed inspired vibrator comes encased in 18-carat gold plate! Save those pennies for 5-10 years and it can be all yours!
Victor Phantasm
£43,000
Are you looking to propose to your lovely lady and have a shed-load of cash to burn? No? We thought not but imagine getting on one knee and presenting this mini cocktail shaker-styled beauty to her – you're sure to get a big YES with a diamond ring in-between this two-part toy. The Victor Phantasm is made to stimulate all the sensitive zones at a time. The basic egg offers a more intense stimulation, and the smaller one is used for more sensitive zones. The only thing it won't go sensitive on is your wallet.
Velvor King JCobra Solid Platinum Cock Ring
£141,000
The King JCobra is the most exclusive Cock Ring on the planet it's creators Velvor claim. One look at the price of £141,000 and it damn well better be exclusive. The JCobra is the perfect gift for any man who calls his average sized cock his anaconda or a gentleman who enjoys not only a vagina (or ass) around his cock but a solid platinum cock ring. The JCobra is made of ergonomically bent precious metal in the shape of a cobra which will be individually handcrafted in 100 hours by an award-winning Master Silversmith from the UK. Boys and their toys, eh?!
The Pearl Royale
£1,000,000
Yes, you saw that price tag correctly… a million pounds for a vibrator. No, The Pearl Royale doesn't house a genie that grants you three wishes, it doesn't give you access to the other royal jewels in the Tower of London, and who knows if it will even give you multiple orgasms but it certainly will cost a cool milli!
The Pearl Royale is designed with opulence, as a commissioned piece of art! The fact that it's a sex toy is an added bonus. Designed in solid platinum, with brilliant cut and princess cut diamonds, silver-white pearls, princess cut royal blue sapphires and brilliant cut pink diamonds, it is a truly stunning toy and a functional vibrator its creators Fornicari claim. Although, unless you're a billionaire and can afford to buy all of your wives one, I'm sure it's more of a statement/display piece rather than that trusted sex toy you use when the mood takes you.
Further outlandish features are its own key, attached to a single South Sea pearl, caged within the crown. When attached, the key activates the multi-speed vibrator but can be detached and worn as an elegant pearl and diamond necklace – oh what a life you must lead to own such an extravagant sex toy! Sell the cars and sell the house. Hell, even sell the kids and get yourself something truly out there, or better yet, pick up our alternative…
BONUS: Samantha Sex Robot
£2,295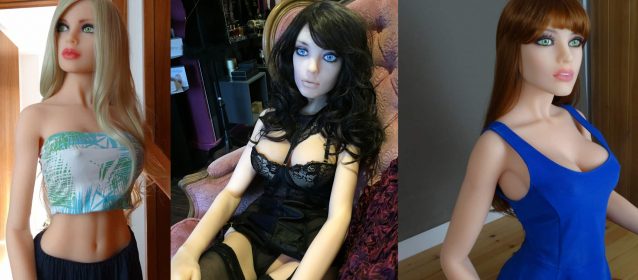 Those exclusive brands and manufactures who create and sell the world's most expensive sex toys aren't the only ones. Here at Vibez, we too have a high quality, original, and exclusive toy in the shape of Samantha – our very own A.I. sex robot!
You can read all about Samantha in her very own Blog post HERE
If you're one who can afford any of the sex toys on this list then you can purchase Samantha HERE.
February 14, 2018
← Previous Post
Next Post →