6 Sexy Gifts Any Man Can Buy For His Woman
This one is for the gentlemen. Now let's all be honest with ourselves. Most men out there in relationships (especially those married) find it hard to get the right 'spicy gift' for their special lady. This is where we come in. Christmas will be upon us before you know it, followed by Valentines Day, birthdays, anniversaries, and that pressure of finding the right gift amplifies. Chill. Our list below offers 6 sexy (and romantic) gifts any man can get for his woman.
We advise you bookmark this one.
This vibrator claims it's just what women want, and my friend, they are correct! This bad boy offers innovative vacuum technology and a touch-free massage effect designed to give a serious dose of pleasure versus a standard vibrator. Now, why the hell would you buy your woman a vibrator when she gets the real thing in the form of you? The clitoris boys. The clitoris. The satisfier has its name for a reason and it is a great gift for those moments when you and little Johnny aren't around.
If the Satisfier doesn't satisfy you then consider something a tad more traditional in the shape of a bedroom robe but with a twist. A sexy twist. We're not talking about that oversized cream fleece number from Asda George you get her for mother's day. We mean something fitting and sensual to make her feel like the gorgeous woman she is. Think Plum satin or Leopard print or textured black lace. If she's looking sexy, she'll feel sexy and you'll both enjoy this gift on those special evenings alone.
Bijoux isn't a toy or single piece of clothing but rather a brand who offer a range of sensual products aimed at romance and pleasure as one. Set the scene with their massage candle which you can pour onto her skin, getting your manly hands deep into her curves. Or, get her a bottle of Aphrodisia Body Mist and have those gorgeous rose and jasmine scents get you both into the mood. What about something sweet? Spread some of their Butter Caramel Poême onto her sensitive parts and eat it off! These are just a few options as Bijoux also offer Ankle Cuffs and Chokers, Masks and Ticklers, Body Powder and even a sexy game of Lucky Love Dice. All of these will add that romantic element any woman would appreciate.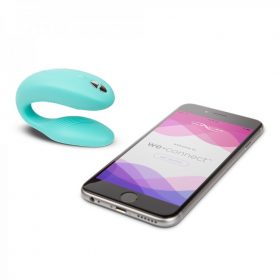 Alright, here we go boys; this is one gift that is designed for both you and your ladies pleasure! The We-Vibe Sync is a powerhouse couple toy that can be used during sex. She'll receive stimulation to both her clitoris and G-spot (don't forget how important these areas are) and you also get to ride those vibration waves giving you both a unique element to experience.
Now, are you a couple where life has you spending a lot of time apart? Or do you like to just get freaky however you can even when not together? The Sync is here to help. With their app you can play and control the toy (and her) from anywhere in the world – all you need is WiFi. This feature sure would make her girls night out more interesting!
What woman doesn't love shoes? I'm pretty sure your lady does too, so why not consider a sexy pair of heels! Is that check not going to stretch to Louboutins this month? We have you covered with a range of gorgeous shoes in passionate red or tap into her seductive side with sexy lace, pink rhinestone or stilettos. These babies will make her feel sexy and powerful. She may even step on you with them – if you're into that of course. Either way, you can't go wrong with a pair of shoes.
If all else fails you can never go wrong with a promise of a sensuous massage using our diverse range of massage oils. Whether it's intoxicating chocolate, organic botanicals, or our Fifty Shades Pleasure gels you'll be sure to hit the spot. Or better yet, Shunga Geisha's Secrets set has massage oil, aphrodisiac gel, and even shower gel to set the right mood all night long.
September 26, 2017
← Previous Post
Next Post →