5 Unique & Innovative Vibrators
The last few years have brought amazing technology to the sex toy world and vibrators are at the helm. The days of the standard rabbit plodding along are long gone as each year something truly unique and innovative comes to market. Here at Vibez, we are proud to offer our customers a range of the world's most unique and innovative vibrators and here's a list of five of them for you to consider…
The Satisfyer range is well and truly living up their name and the Pro-Rabbit will stimulate your love bead touch-free through pressure waves. This will ensure deeper stimulation which leads to multiple orgasms! If that wasn't enough, the Pro-Rabbit further broadens the unique feeling of clitoral pressure wave stimulation to include an additional G-spot massage. It also provides you with 3 vibration intensities and 7 rhythms giving you deep vaginal vibes.
Meanwhile, the clitoral stimulator caresses your love bead with sensual pressure wave stimulation. The round silicone attachment encircles your clitoris as you are brought to a touch-free climax. This gives you a sensation similar to that of a man or woman who knows what they're doing in the basement. A rapid change between suction and pressure is available in 11 intensities - you'll be forgiven for developing a close attachment to this bad boy.
UNIQUE FACTOR: Uses pulsating air currents to deliver the deepest clitoral stimulation!
This remote control butt plug vibrator isn't only for the ladies, gentlemen too can use it's innovative warming function to heat things up in the bedroom! The motor inside the smooth, silicone plug has 5 different modes and 5 different intensities so you can be as greedy as a fat kid at Greggs. The real kicker that the Primo delivers is its equipped heating core which can heat the vibrator up to roughly 38C / 100.4F. Save on the heating bill this month and get the Primo instead!
UNIQUE FACTOR: A vaginal and anal plug that comes remote controlled and with a heating function!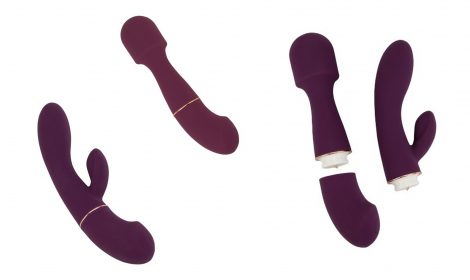 Who doesn't love two different vibrators for the price of one? Spoil yourself rotten while saving the pennies with the DUA Interchangeable Vibrator with 2 attachments! Pleasure always comes in twos with this beauty as it features two interchangeable heads: a Wand head to allow for deep vibrations that will obliterate any tension in your body and the Rabbit extension which will bring you orgasmic delights with simultaneous vaginal and clitoral stimulation. Self-love has never felt so good!
UNIQUE FACTOR: Interchangeable vibrator featuring a wand and rabbit head!
Are the kids away at grandmas for the night and Ian's on a pub crawl with the lads? Perfect, because it's YOU time and the Bi Stronic Fusion will make a fantastic companion giving you thrusting action and powerful vibration all in one vibrator! The bestselling Stronic pulsator is paired with one of the strongest external motors on the market, for the world's first dual action toy that combines realistic thrusting with body quaking vibration. Is Ian coming home early? No problem, as you can choose from 64 amazing stimulation settings sure to give you a speedy journey to nirvana!
The Bi Stronic delivers real innovation with its patterns and crescendos of internal movement and pressure. It also features deep vibrations that focus on the clit and flutters against the labia. This pink beauty is designed and handcrafted in Germany (so you know it's some good shit) and uses the highest quality body-safe silicone on the market. This one-of-a-kind toy boasts an intuitive button interface, a waterproof design for versatility and easy cleaning, a travel lock with a clear on/off control, and a charge indicator – so that you never run out of fun on those special nights in.
UNIQUE FACTOR: A self-thrusting vibrator that uses magnets and pistons to thrust!
Looking to experiment with electro-play without jumping into the deep end? Then the E-Stim vibrator is for you! It uses electrical currents to stimulate nerve endings in erogenous zones, these vibrating stimulators will take your orgasms to a whole new level! By targeting the most intimate areas, but adding electricity, specifically erotic electro-stimulation, this high-tech form of sex will send shockwaves into the bedroom creating your very own lightning show!
The E-Stim vibrator also offers a variety of impulses, from a gentle tickle to a heavy throbbing throughout the body. Practising electro-sex with electro-shock requires caution. We're all adults here so be sure to keep electro-sex play below the waist only – no matter how drunk and noisy Ian is when he gets home. Do NOT use this toy in combination with water!
Back to the fun - has finding your G-spot always given you that trickle down your spine? Well, the beautifully crafted E-Stim comes with 2 (light) electro-shock stimulation points. There is one at the top and one in the G-spot area. The E-Stim is also waterproof, made of superior smooth silicone and has a 10-speed mode for unwavering pleasure!
UNIQUE FACTOR: Vibrator with intense electro-stimulation in a single unit with no external pack needed!
March 2, 2018
← Previous Post
Next Post →