WELCOME TO THE ONLY PLACE YOU WILL NEED TO EDUCATE YOURSELF ON ALL THINGS SEX! HERE AT THE BUZZZ, OUR DEDICATED BLOG, WE WILL PROVIDE EXPERT TIPS, NEWS ON THE LATEST & GREATEST OF THE INDUSTRY AND JUST ABOUT ANYTHING YOU WILL NEED TO KNOW ABOUT SEX & RELATIONSHIPS GOT A TOPIC THAT NEEDS DISCUSSING? SUGGEST A BLOG POST TO US & YOU COULD FEATURED RIGHT HERE...
THE 8 CRAZIEST SEX TOYS of the 21st Century
This entry was posted on February 22, 2017.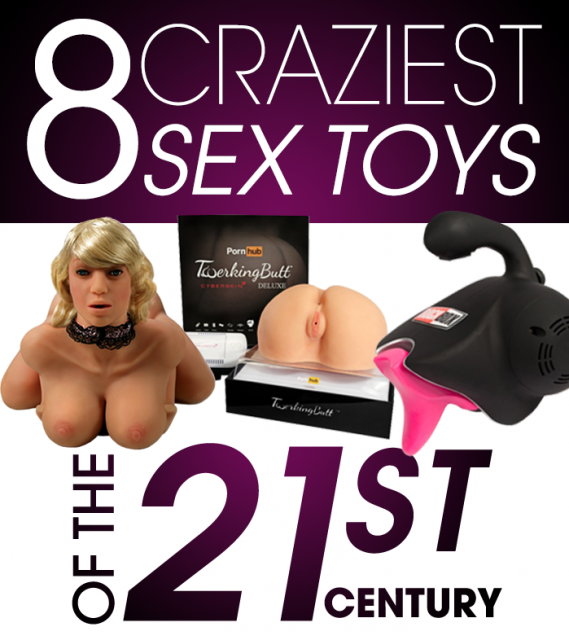 For thousands of years, humans have enjoyed pleasuring themselves and their fellow man (or woman) with the aid of sex toys in one form or another. The previous Century brought us a multitude of electric vibrators and realistic dildos, creepy blow-up dolls and the popular Fleshlight. However, it is the 21st Century where technology and sex toys have come together in fantastic and surprising ways. Have a look at our list of the 8 craziest sex toys the 21st Century currently has to offer.
So, this list doesn't just feature wildly popular sex toys and this bad boy is why. An iPad holder for your Fleshlight, or Fleshlight holder for your iPad - I'm still not quite sure. The supposed aim here is to attach your iPad and Fleshlight to this slightly bulky apparatus, log into Porn Hub and enjoy a bit of Big Titty Cum Slut Goes to New York. Now, I don't know about you guys out there but when one tally whacks the last thing one wants is to feel motion sickness before climax because let's be honest, most monkey's enjoy a rigorous spank. This is one 21st Century toy most would agree is best left in 2014.
Now here's a sex toy that's truly innovative, classy and downright hilarious just like the pop princess that quite clearly inspired its creation. She twerks, she vibrates, she massages, she keeps your dick warm and even cleans up after herself – what a classy butt.
The Porn Hub Twerking Butt is something only the 21st Century could produce as technology can now replicate iconic pop culture moments and turn them into sex toys – what a time we live in! Her Twerking prowess isn't all this gadget offers. This kit comes with virtual reality goggles that's meant to add a whole other dimension to the fun. Something tells us that the Twerking Butt is only the beginning of what this Century will bestow upon us in the near future.
The revolution in male masturbation is here and in the form of the REV1000. Unlike standard Fleshlights, the Rev makes flogging the salami a unique experience with its 49 combinations of speeds and functions! It also comes with a Japanese motor built in (and they know how to make good shit) that will make breaking the fish tank an intense body tingling experience you won't soon forget.
With sex toys now being a $15 billion industry is it any wonder that a contraption like the F-Machine Pro II exists? For those who appreciate the sex skills of a rabbit, this machine is amazing. Essentially, you place your favourite dildo on the protruding stick at the end, switch to your preferred speed and fuck away. Despite resembling one of those terrifying animal robots, the F-Machine is a mean piece of kit featuring a 60 watt industrial spec motor with ass clenching speeds of 240rpm! Hold on to your butts, it's gonna be a bumpy ride.
Let's all be honest, this so called toy looks terrifying! But the Rock Box 2 is a goliath packing a bone rattling 5,000rpm. Why does this toy exist? It's the 21st Century, we don't need a reason just know that the option to vibrate yourself and your partner into the ground is there. That's right; the Rock Box 2 offers two pleasure attachments for men and women. We can't think of a better way to literally shake things up in the bedroom.
How can you make a vibrator 21st Century ready? Stick a wireless camera on the end that features state of the art visual technology of course! With the Siime Eye being wireless and controlled via a personalised app, cam shows will never be the same. Instead of burying the knuckle, bury the Siime Eye, or invite your partner to take control, either-way, this is one toy that will leave a very realistic impression.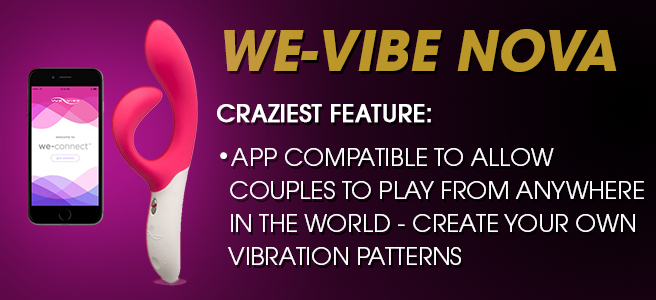 Let's set the scene, little Bobby and Jill are at school, Eric is away at work, you have plenty of time to do the housework and Loose Women are giving you a fucking migraine. You close the bedroom curtains, get comfortable on the bed and pull out your Nova by We-Vibe Rabbit from the bottom bedside table drawer. You go on your iPhone 5S and open the We-Connect app and load your custom made vibrations. First six, then five, then six again, now seven, seven, seven, SEVEN!! No longer will standard rabbit vibrations do.
The sex doll is a staple at stag and hen dos and the home of Frank two doors down but this is the 21st Century and the basic sex doll has been re-imagined in the form of Penthouse Nicole Aniston CyberSkin Reality Girl. This 2013 Penthouse Pet of the Year has lent her assets to this one of a kind doll. Her skin feels soft and supple, her face…. Well just focus on her amazing deep throat skills, her full breasts, tight pussy and slappable ass as this realistic doll takes you to nirvana.
February 22, 2017
← Previous Post
Next Post →